My Savannah's vocabulary is increasing daily. She is 27 months and has always been a talker!!! Her latest and greatest thing is saying "I love......." you fill in the blank because I guarantee she will say she loves it!! I take some blame for this as I tend to overuse that saying. As my husband would say, Savannah and I both need to utilize the term "like" in place of love. I say, however, that we are both very passionate people and in the moment we really do LOVE what ever it is we are talking about!! Here are some "love" highlights from today!
"Mommy, I LOVE swimming"
(while changing her diaper) "Mommy, I LOVE poopy"
"Daddy, I LOVE cookies"
"Mommy, I LOVE Chicken"
"I Love french fries"
"I love chickens" (we own chickens)
The list could go on for awhile, you get the idea. I found it very cute and was just glad she was in a good mood. As any mom of a 2 year old knows, they aren't always so happy!
Check out Tiny Talk Tuesdays
here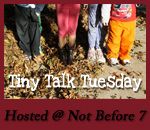 .