I have always wanted to have chickens. My first experience with chickens was with a sweet girl named La Rosa. I got to "chicken sit" her one summer while in high school. I would walk her out to a large oak tree and tie her up using a lead to the tree. I would then sit and read my book while she searched for bugs and other yummy treats. Since that summer, I always said I wanted my own chickens.
My neighbor got her first chicken about a year ago. Since then, her flock grew and she now has 6 chickens. By watching my neighbors, I realized that I too could have chickens!! My husband who is a police officer wasn't so into the idea. He researched the city ordinances (I don't live in the country) and found that we can have hens!!!! So I am now the proud owner of 3 Wyandottes. They won't be laying any eggs for a couple more months but they are wonderful pets. So this post is all about introducing them to all of you!!

Savannah holding "Momma" Chicken



I call this one "Crazy" chicken. I really hope it isn't a roster!!

This is "Sweetheart" chicken. She always lets you hold her and pet her.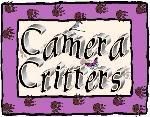 This post is linked to Wordless Wednesday's at
5 Minutes for Mom