My Siberian Huskie Charlemange. He is a goofy dog, a good dog and a loving dog. We did find out today that he has a taste for crayons. That is one thing I would have never thought of removing those from the table before leaving the house tonight!! He devoured the entire box of brand new crayons I bought Savannah. Perhaps we will find some colorful presents in the backyard this week!! HAHA!!
Oh well, hope you enjoy the photos!!!!!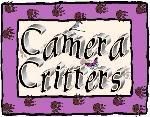 You can check out more cute animal photos at
Camera Critters
!