When Savannah was born, I naturally used all the Johnson and Johnson products that people got me at my baby shower. For most newborns, that stuff works great, but my Savannah....well she's special! She has VERY sensitive skin, she had horrible cradle cap and some eczema. I tried lots of remedies, but nothing seemed to work! I had to cut dairy out of my diet (I was breastfeeding) and I hoped that would help with the eczema and it didn't. So, I was at Target, looking around when I saw a small selection of California Baby products. They claimed to work well for kids with sensitive skin and eczema...gentle enough for newborns!! I figured it couldn't hurt to try! I was tired of my poor girls head looking like alligator skin, so I bought the body wash and some of the baby lotion. It worked wonders!! Her cradle cap was gone after 2 baths, and her skin looked so much better. I guess natural is always better (not less expensive!) so I have continued using only
California Baby
bath products and intend to use them for the next baby as well. I would suggest this to any mom who has a kid with sensitive skin....I loved it!
Click above for more Things I Love Thursday!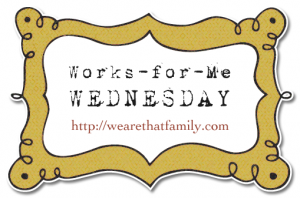 I am in no way associated with California Baby, I am not getting paid by California Baby for endorsing their product.